Reviews: Awning Assist's Supports & Accessories
Our Clients Speak About the Awning Assist Brace
"The Awning Support Brace really reduces wind motion on our 22 foot wide retractable patio awning. We use it about 40% more often with the braces!"
- Jack and Pat White
"Wind conditions often stopped us from using our patio awning - not anymore!"
- Mrs. Pappas
"Just finished installing the braces and they work great. They were easy to install and in only took about 90 minutes +/- and now we have a saver awning with no more bounce.
I want to thank you for all you support. This type of customer service is unique and it made a big difference."
- - Charlie
"I just wanted to pass on a big thank you, the black brace look fantastic. Thanks for making it happen and for the delivery today."
- David
"I just wanted to let you know that the Awning Assist Braces are great! The shipping was quick and the installation easy. It is a well-made product. We now enjoy the awnings more than we ever could before.
Thanks for your great product and service!"
- Marlin
"I love these braces. I call the guy who sold and installed my awning, C & C Canvas and Awning. One of they're guys is going to stop by and see the installation next week."
- Greg
"Bought two 8 ft poles for my Sunesta awning. Just have to tell you how pleased we are with how well they are made, and how they work, and how good they look. Great product. "
- Tony
"I picked-up your Awning Assist Brace last week at Auvents Multiples. I had no problems whatsoever to fit the top brackets to the Brasilia Awning Extrusion using your supplied hardware.
Thank you for your support, follow-up, and quality of your products. I look forward to using my awning much more now that it will be stable in light wind. "
- Paul
" I cut the braces to fit and they look and work great. I'll attach a picture if you'd like to use it for your website.
Thanks for the great service and the quality product. "
- Tim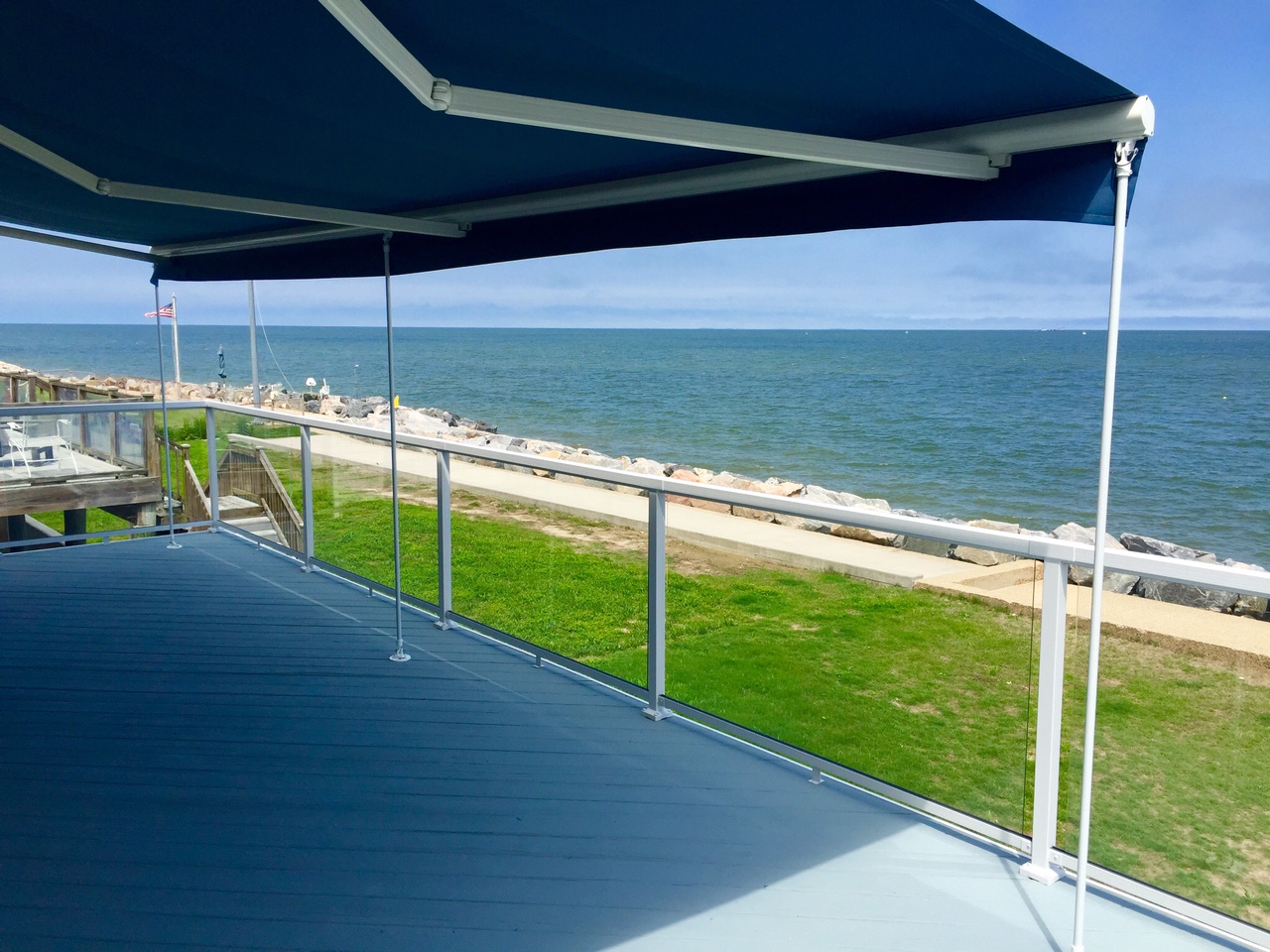 "It took a couple of weeks to get the braces installed, but they look great, and work well. ( It wasn't difficult; it was a matter of getting my nephew over here to do it correctly. He did a great job.) I can open my awning now and leave it open without worrying about it taking off in a high wind, or flapping in a low breeze either. Thank you so much for your help.
I've attached a couple of photos. I couldn't get the whole awning in one photo because of its width "
- Cathy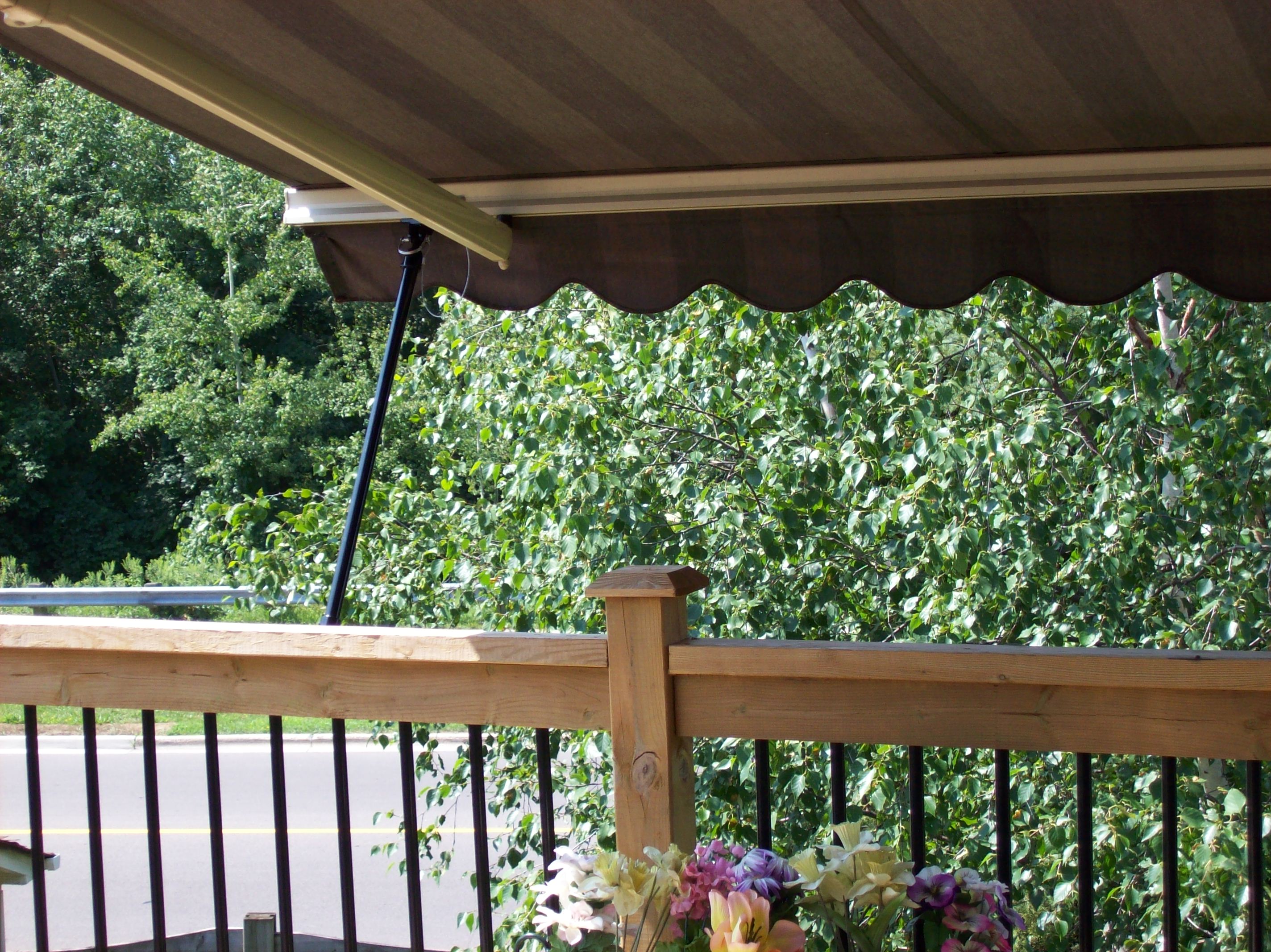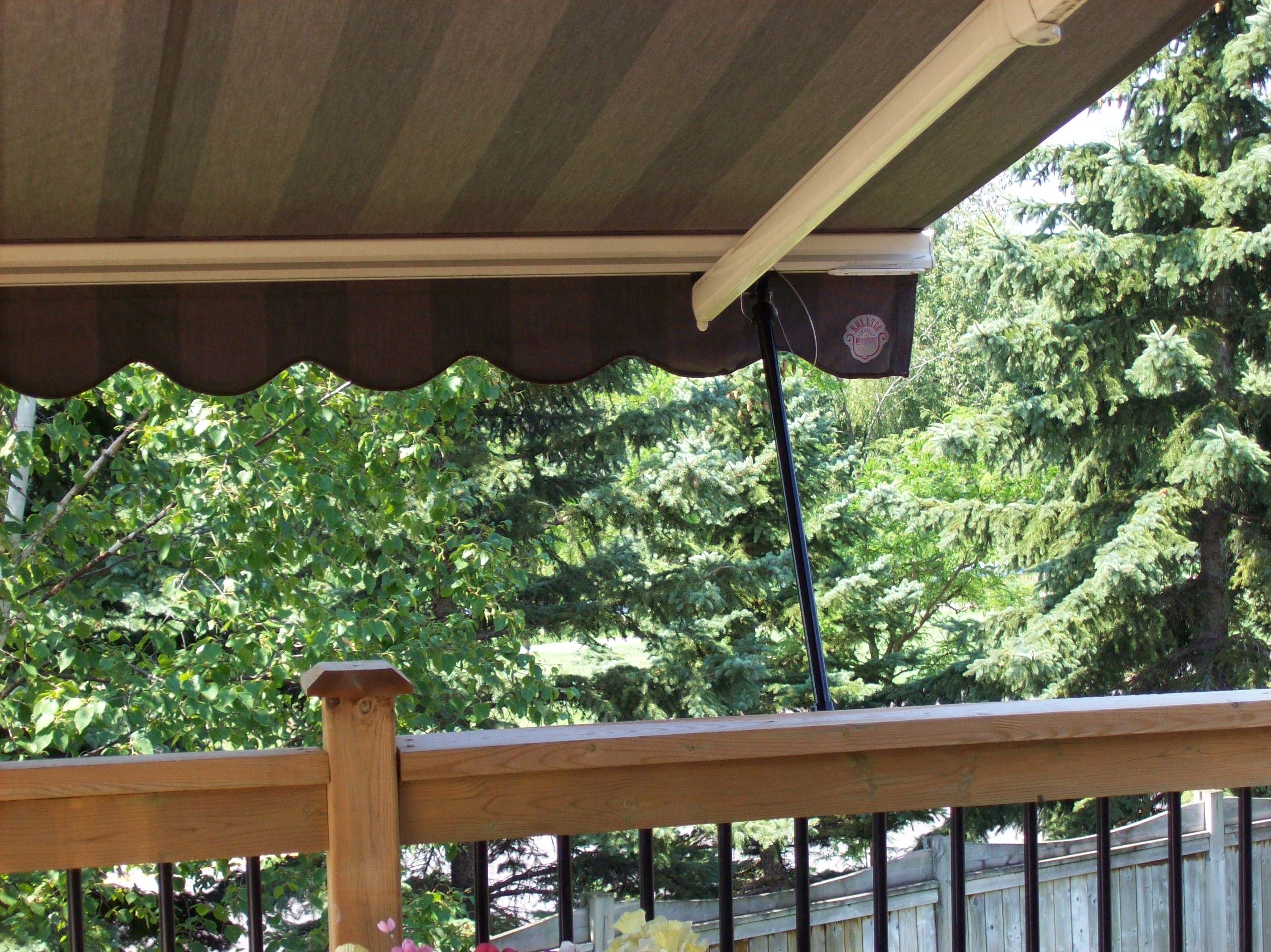 "Just want to tell you that the awning supports are working very well. A good invention"
- Dieter
"It's so simple even a kid can do it, top or bottom!"
- Melissa Shannon
"John, the awning assist went up without hitch, and looks wonderful. Took about 30 minutes (I had to add some 2x4 braces, as you can see in the photo attached). Well, worth the investment. The only downside was they came in the day I was going out of town for a few weeks. Hence, the delay in getting them installed. May the Lord be with you, thanks for your help and courtesy."
- Nick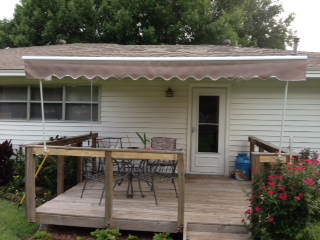 "Sleeve clamps were in mail today. Thanks for your efforts. Appreciate the attention even though a small order."
- Lorne
"Finally getting back to you to let you know how much we like the awning arms/holders. They were very easy to install and work fine. Not sure how much wind we should allow with them however so still working on that. Also, will try to come up with some way to attach the removal pin to the arm so we don't drop it. Our deck is 23' up from the ground, so a long way down if dropped. Anyway, thanks for all you instructions. It is a great product and very professional looking."
- Ellen
"Thank you for making such a great product it works wonderfully we are now finally able to sit on the deck and enjoy the awning without having it moving around. "
- Christine
"We're so happy to be able to set up the awning properly for the rest of the summer :) We appreciate you selling us the individual parts that were so difficult to find."
- Brenda
"They arrived and in. We love them. Thank you so much for your assistance when we ordered them. I gave you 5 stars on Amazon"
- Pam
"Just a line to say how much we love the awning supports. We installed them on a Durodeck surface next to our aluminum rails and they work perfectly. Clever design and a fairly easy install. Thank you!"
- Keith
"Received the system in great shape. Have reached out to Majestic Awning to help with the installation. By the way, you guys really can pack a box! And I thought my mother was the best.
After some delays, the brace assist system AND the sunscreen brackets are in. I finally finished my grommet installation, too. We couldn't be happier. Thanks for your help, advice and terrific products."
- Sharan